barbara
This user hasn't shared any biographical information
Posts by barbara
Gabriel Thomas Adams was born May 27th.  He was 9 pounds and 4 ounces and was 20 1/2 inches long.  His proud parents are Thomas Bradley Adams and his wife Jo Marie.  He is the baby brother of Abi.  He is the grandson of Shelia Adams and the late Mike Adams.  His great grandparents are Thomas and Shirley (Rousey) Adams.

Wow, the big reunion of 2012 is fast approaching!  We have decided on t-shirt and hat  designs.  I have attached a picture of the submitted design.  The actual products may be slightly different.  The shirts will be off white with either green or red lettering and the hat will be tan with black lettering. 
You should preorder the number and sizes of the t-shirts and pick them up, pay for them at the reunion.  Just reply to this email letting me know how many t-shirts you want and what sizes.  I also need to know the number of hats.(The hats are adjustable and embroidered with the various Rousey spellings)
t-shirts (adult sizes only)
S,M,L,XL  $12
XXL, XXXL, XXXXL  $15
Hats (one size adjustable)
$12
We will also have small cloth backpacks with Rousey Reunion on them.  If you are interested in purchasing one for $5, let me know by the 25th also.  You can pay and pick them up at the reunion.
Please reply by June 25th to insure that you items are ordered.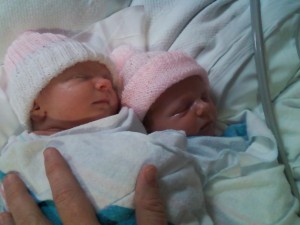 Mackenna Lynn Linke and Mackenzie Marie Linke were born Jan 20th, 2012 to Amanda Wheeler and Jason Edward Linke.  They are the grandaughters of Lisa Rousey Snowden and great-grandaughters of Buddy Glen and Joan Rousey of Fort Myers, Florida.
Our annual spring clean-up at the cabin is Saturday, April 28th.  We'll prepare the cabin and grounds for an active spring and summer and cotinue planning for the BIG Reunion.
Savanna Jean Goergen was born January 10,2012 to Sara and John Goergen, of Wapella, Il.
 She weighed 10 pounds at birth. She is named after her maternal great Grandmother Annabelle Rousey Slayback and her maternal grandmother Elizabeth Ann Slayback. She shares her paternal great Grandmas middle name, Jean Goergen.
She is very much loved by her brothers Cameron(13), Casey(11) and sister Sloane(4).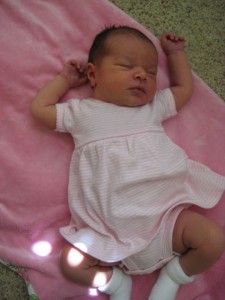 Kyle and Jill Tannehill Mason announce the birth of a daughter, Reece Marie, on May 14, 2011.  Maternal grandparents are Bill and Brenda Fox.  Great Grandmother is Nina Rousey Hatter.  Riley Rae, age 2,  is so excited to be a big sister.

First Planning Meeting
2012 Big Reunion
October 1, 2012
Date of 2012 Big Rousey Reunion:  Friday-Sunday July 20 -22, 2012
****Proposed Change:  The Big Event pot luck dinner will be held on Saturday evening.
The Saturday Big Event Day will include activities all day with a Memorial Service at 5PM and Pot Luck dinner on the grounds at 6PM.  We will draw raffle tickets immediately following the meal. 
Activities Friday will include a cookout (hotdogs and pulled pork with bring your own sides)at 6PM followed by a movie under the stars.  Night hike will be directed by Bill if some are interested.
Saturday activities discussed include:
a narrated tour or Butchertown and the sand knob fire tower.
Hayrides
Snow cones
3 Inflatables for children (one a water slide)
Scavenger hunt for adults
Scavenger hunt for children
Temporary tattoos and face painting
Music (depending on availability-your suggestions would be helpful)
Horseshoe and Cornhole contests
Sunday
Bring your own picnic lunch or eat leftovers
Hayrides
Scavenger Hunt
Horseshoes
Homemade Ice Cream
Hikes
Inflatables
Butchertown tour (for those who did not do it on Saturday)
We are having a t-shirt and hat design contest beginning now.  You may submit a drawing or picture of your design to me by email.  I will post them on the website where you can vote for the one that you like.  Deadline for submission of designs will be January 1, 2012.  Voting will be finished by March 30th.
T-shirts and caps will be available for purchase but we are asking that you request a t-shirt by Mid June so that we know about how many to order.  You will pay for them at the reunion.  You will not be assured of getting a t-shirt if it has not been requested.
A limited number of campsites with electricity and water are available.  There are numerous options for dry camping.  No sewer facilities are available for campers.  Those wishing to use a campsite should let us know prior to the event.
Your comments and suggestions would be appreciated.  There is still much to be done.
Our next meeting is November 5th-our fall clean-up day.  Email your comments and suggestions and I will relay them to the planners.

Justin and Dr. Angela Jeffries and Big Brother Alex welcomed Claire Michelle Jeffries to their family October 6, 2011.  She is the grandaughter of Barbara (Rousey) and Danny Jeffries and the great grandaughter of June Rousey and the late Robert Rousey.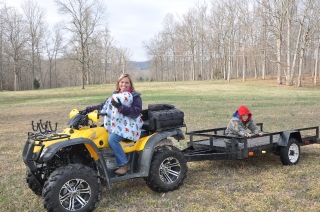 It was a cold day in March at the Old Homeplace. Twenty four people gathered to spruce up the cabin, the yard and the field.  Participants ranged in age from 82 to 6 months.  Picking up tree lilmbs, raking leaves,cleaning in the cabin and moving dirt kept everyone warm.  Hot soup, hot dogs and other goodies including smores were shared at lunch.  It was a very good day for work and sharing.  Check out the people gallery page 3 &4 for a view of what was done.