barbara
This user hasn't shared any biographical information
Posts by barbara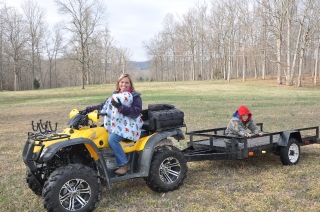 It was a cold day in March at the Old Homeplace. Twenty four people gathered to spruce up the cabin, the yard and the field.  Participants ranged in age from 82 to 6 months.  Picking up tree lilmbs, raking leaves,cleaning in the cabin and moving dirt kept everyone warm.  Hot soup, hot dogs and other goodies including smores were shared at lunch.  It was a very good day for work and sharing.  Check out the people gallery page 3 &4 for a view of what was done.
Nikki and Brad Osborn welcomed Taylor Dean Osborn October 4, 2010. He looks just like his big brother. Taylor weighed 6'14 and is 20 in. long. He and Nikki are both doing well. Austin is very excited to have a baby brother.  He says he's going to teach Taylor how to hunt deer, turkey and bears and how to drive a boom-boom ( 4-wheeler). Taylor is the grandson of David and Sherry Rousey Anderson and the great grandson of Patrick and Mildred Rousey.
Wanda Elaine Rousey Swanner Robinson
, 64, of Bloomington IL (formerly of McLean, IL) died of gallbladder cancer Monday Sept 6, 2010
at Asta Care Center, Bloomington. 
Wanda was born January 14, 1946, daughter of Marion Rousey and Alta Pearl Southerland.  She is survived by her children, Lane Swanner
and Jacquelyn Diane Robinson; a grandchild, Aurora Jade Hughes; sisters, Helen Hughes and Joan Reineke: one brother, Richard
Rousey and many nieces and nephews.
She was preceded in death by her parents; four sisters, Marie Sapien, Norma Gordon, Lorene Collison, Christine Ellis and two brothers,
Marion Eugene Rousey and Donald Wayne Rousey.

Scott and Audrey Rousey along with Audrey's brother Gary True, his wife Mindy and children Courtney and Conner stopped by the old homeplace riding four wheelers on Labor Day.  Check out more pictures in the people gallery.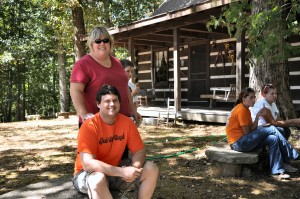 Sherwood Rousey was in Kentucky for his class reunion during Labor Day weekend.  It was a great opportunity for other family members to get together with him and Pat at the Old Homeplace.  There was food, hiking and lots of good conversation on an absolutely beautiful day.  Check out the pictures in the People Gallery.