Archive for
October, 2011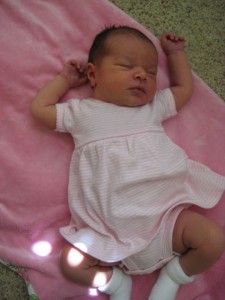 Kyle and Jill Tannehill Mason announce the birth of a daughter, Reece Marie, on May 14, 2011.  Maternal grandparents are Bill and Brenda Fox.  Great Grandmother is Nina Rousey Hatter.  Riley Rae, age 2,  is so excited to be a big sister.

First Planning Meeting
2012 Big Reunion
October 1, 2012
Date of 2012 Big Rousey Reunion:  Friday-Sunday July 20 -22, 2012
****Proposed Change:  The Big Event pot luck dinner will be held on Saturday evening.
The Saturday Big Event Day will include activities all day with a Memorial Service at 5PM and Pot Luck dinner on the grounds at 6PM.  We will draw raffle tickets immediately following the meal. 
Activities Friday will include a cookout (hotdogs and pulled pork with bring your own sides)at 6PM followed by a movie under the stars.  Night hike will be directed by Bill if some are interested.
Saturday activities discussed include:
a narrated tour or Butchertown and the sand knob fire tower.
Hayrides
Snow cones
3 Inflatables for children (one a water slide)
Scavenger hunt for adults
Scavenger hunt for children
Temporary tattoos and face painting
Music (depending on availability-your suggestions would be helpful)
Horseshoe and Cornhole contests
Sunday
Bring your own picnic lunch or eat leftovers
Hayrides
Scavenger Hunt
Horseshoes
Homemade Ice Cream
Hikes
Inflatables
Butchertown tour (for those who did not do it on Saturday)
We are having a t-shirt and hat design contest beginning now.  You may submit a drawing or picture of your design to me by email.  I will post them on the website where you can vote for the one that you like.  Deadline for submission of designs will be January 1, 2012.  Voting will be finished by March 30th.
T-shirts and caps will be available for purchase but we are asking that you request a t-shirt by Mid June so that we know about how many to order.  You will pay for them at the reunion.  You will not be assured of getting a t-shirt if it has not been requested.
A limited number of campsites with electricity and water are available.  There are numerous options for dry camping.  No sewer facilities are available for campers.  Those wishing to use a campsite should let us know prior to the event.
Your comments and suggestions would be appreciated.  There is still much to be done.
Our next meeting is November 5th-our fall clean-up day.  Email your comments and suggestions and I will relay them to the planners.

Justin and Dr. Angela Jeffries and Big Brother Alex welcomed Claire Michelle Jeffries to their family October 6, 2011.  She is the grandaughter of Barbara (Rousey) and Danny Jeffries and the great grandaughter of June Rousey and the late Robert Rousey.